A Future of High Performance in Human Services

Cook County CIO for Cook County Greg Wass shares his vision of the future of human services.

He starts by looking at technology issues and costs, saying despite these challenges, organizations must "find ways to administer human services in a way that costs less but provides better customer service, connects case management, eligibility, determination and intake." He also offers his definition of a high-performance human services organization as one that does not allow rules and technology to "bind them to the silos that they exist in today."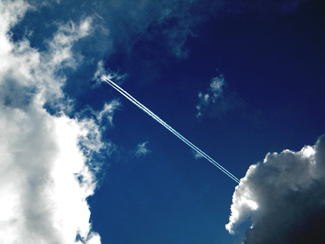 Innovation: The Big Picture

Our biggest innovation isn't in technology, it is with people. When good people are allowed to collaborate and develop new ideas, innovation is never far behind.

The innovation that separates us from other governments in the nation is clearly illustrated with MetroChicagoData.org. This website was developed through a collaborative effort among state and local governments, elected officials, civic groups, and representatives of the technology and Open Data communities. Open Data is the publishing of once-hidden government data to a free public data website, or catalog. It is part of the recent open government movement to increase the transparency, accountability and performance of the public sector through innovative uses of the web, social networks and mobile platforms.

While governments have for some time made statistical datasets available publicly—first in published books and tables, then on diskette, and for the past 10-15 years downloadable or viewable on public-facing websites—the open government movement is unique in that it applies a standards-based approach to the release of government datasets to the public.

Cook County's Open Government Ordinance, the County's own datasite and the metrochicagodata.org site all aspire to the eight principles of the Open Government Working Group. Data must be:


Complete. All public data not subject to valid privacy, security or privilege limitations is made available.

Primary. Data is as collected at the source, not aggregated or modified.

Timely. Data is made available as quickly as necessary to preserve the value of the data.

Accessible. Data is available to the widest range of users for the widest range of purposes.

Machine-readable. Data is reasonably structured to allow automated processing.

Non-discriminatory. Data is available to anyone, without requiring registration.

Non-proprietary. Data is available in a format over which no entity has exclusive control.

License-free. Data is not subject to any copyright, patent, trademark or trade secret regulation.


Metrochicagodata.org is hosted by Socrata in a public cloud and is cooperatively managed by three partner governments. It currently includes more than 1200 datasets and visualizations of public data in 10 categories including public safety, health, education, environment, transportation, tax and revenue, and buildings and property. This "convergence cloud" site federates information posted by Cook County, the City of Chicago and the State of Illinois to their individual data sites. The Socrata platform provides a simple way to access, view and download public datasets, and offers the ability for users to comment on and rate datasets and to create and save visualizations including a variety of graphs, charts and maps. The platform meets Open Data requirements and provides an open source API for developers to be able to connect directly to data sources on the site over the internet when building websites and mobile applications.

In late 2011, the three partner governments teamed with the Macarthur Foundation, the Chicago Community Trust, Motorola, and the Chicago Metropolitan Agency for Planning to hold a multi-part competition--"Apps for Metro Chicago"--which awarded more than $50,000 in prizes for the best desktop, mobile and web apps using metro Chicago Open Data. Teams of developers competed in three rounds--transportation, community and overall--building 58 unique civic apps in the process.

The benefits of Open Data to government are threefold:

Transparency - Open Data allows the public to look at data that is collected and created on their behalf. In addition, Cook County expects to reduce FOIA response time and costs by publishing the most frequently requested datasets to the Open Data site.

Performance - Open Data gives the public a tool to help measure government effectiveness and efficiency and provide feedback on budgets and spending.


Economic Development - Civic-minded technology entrepreneurs can use Open Data free of charge to build free and paid applications that add value to the lives of citizens. They can leverage this data to start technology businesses, as well as grow jobs in existing ones.
Web Apps You Can Use Now
CookViewer



General public-facing GIS data viewing tool to facilitate general map information. Users can display and query various data layers, including property-related information culled from several County offices.

Annual Highway Construction Projects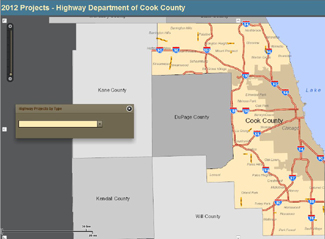 An interactive public-facing map of current construction activity on the County's highways. Hovering on a project provides detailed information for commuters to plan their trip. Additionally, the official project flyer can be displayed.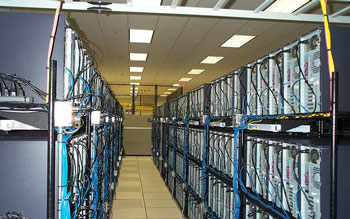 Higher ROI, Lower Energy Bills Through Better Power Management
More efficient power management is one of the many ways Cook County has contributed to President Preckwinkle's initiative to curb energy costs. In the Fall of 2011, we implemented a two-step, system-wide procedure to reduce power usage by desktop computers. During peak business hours monitors turn off after ten minutes, computers go into sleep mode after twenty minutes and hibernate after fortyfive minutes.

During non-peak hours, computer monitors turn off after five minutes; they go into sleep mode after ten minutes, and hibernate after twenty. These parameters are within Energy Star recommendations for Power Management. The EPA's " Energy Star" program estimates annual savings up to fifty dollars per computer. We expect a robust ROI, as Cook County has well over 5,000 desktop computers and monitors.

Other areas of the County where the Bureau of Technology is assisting other bureaus and departments with sustainability include our Department of Budget and Management. In order to cut paper usage, and by extension do our part to contribute to saving trees and lowering global CO2 levels, we established policy to require printing in duplex and convert printers to do this. We helped our Bureau of Administration reduce paper, ink, and power usage by replacing the many standalone printers, fax machines and scanners with multi-function devices.

Cook County has joined the ENERGY STAR low Carbon IT campaign and is committed to saving both energy and money. The Cook County Board President is encouraging all offices to get involved in this initiative to increase Cook County's cost savings and to be more green conscience and environmentally friendly.
---