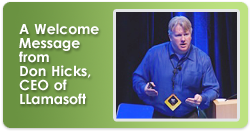 Summer Conference on Supply Chain Design 2012
June 20-22, 2012 At The Michigan League
911 North University Avenue. Ann Arbor, MI 48104


Imagine yourself maxing out your senses and intellect with us at the most intensely invigorating, awe-inspiring, stimulating gathering of people that share in your professional purpose and passions.
We look forward to being in your company at SummerCon 2012 for an unforgettable experience that will keep you on the edge of your seats.
Plan now. Don't wait. There is a place for YOU at THE Conference on Supply Chain Design
Customers, leverage your investment, immerse yourself in real-life supply chain design examples, and learn best practices from leading companies across a range of industries.
Prospective Customer, get up close and personal with Supply Chain Guru® users. See what they're doing, and it won't be long before you'll be formulating your own competitive advantages for success in today's global business environment.
Consultants, Academics and Media, engage in the BIG idea and have meaningful conversations about why and how Supply Chain Design is redefining the way things are moving across the globe every day.
Still not sure? SummerCon2012 is the only place where you will have an all-access pass to the very best in Supply Chain Design including:
Energizing ideas and best practices others are using with great success
Exciting advancements in product development and new technologies
2-Day Pre-Conference Training Course for one-on-one time with our product and solutions experts
The most up-to-date strategies for optimization, flexibility and growth, contingency risk plans, cost to serve, and more.
Stellar case studies and outcomes presentations
Insights and advice from industry influencers
Industry trends that could have significant impact on your business